Valentine's Day is just around the corner, thus it is the perfect opportunity to take a closer look at our oral health. A simple smile is a great asset for attracting the perfect partner. What more if it would be that healthy bright smile!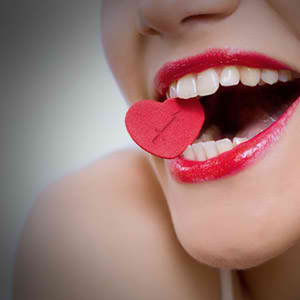 Here are some helpful guidelines for avoiding dental issues and making sure your teeth truly shine when you step out on the town with your date:
While bad breath can be a common after-effect of a great meal, it's probably not that appealing to the person you're sharing it with. Keep some floss in your pocket so that you can quickly get rid of food particles and pesky bacteria in the bathroom; then, pop in some sugar-free chewing gum to give your smile a fresh, appealing feel. If your bad breath persists even after the minty scent has worn off, though, that may mean it's time for a checkup with your dentist.
Cross your fingers for chocolate on the big day! Solid chocolates don't tend to stick to the teeth like more chewy treats too, making them better for your oral health. In fact, dark chocolate is an even better option, as it contains less sugar than milk chocolate!
It's best to avoid gummy sweets, hard sweets, and sticky caramels, if possible. These can be a nightmare for your teeth. Instead, why not give your loved ones flowers, a card, or even a romantic dinner at home?
If you and your main squeeze just can't stay away from the sweets, it's best to enjoy a few with a meal or just after it in order to keep from constantly exposing your teeth to sugar and harmful bacteria. Also, be sure to drink water and practice a good, thorough oral hygiene routine afterwards!
Looking to surprise your sweetheart? Teeth whitening may be just the gift their smile needs to look its very best! At Brightside Dental, we can use this common cosmetic dentistry method to erase stubborn stains and improve the colour of your teeth by several shades. The systems we use, purely improve your smile without causing any damage to your teeth.
If you would like to know more about our teeth whitening solutions, give us a call on 020 88884401 or email us.