Summer is fun but toothache whilst on holiday is not. Your well-deserved break should not be compromised by a sudden bout of illness. So before you pack your bags for that much awaited holiday, you might want to have a look at our Summer Oral Health checklist below.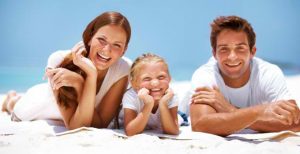 Pay your dentist a pre-holiday visit. Get you examinations done before going away, to reduce the risk of your holiday being spoilt by unpleasant toothache.
Don't forget to pack your dental first aid kit. Most dental first aid kits can be purchased either from your local chemist or online, and are small enough to fit in even the most compact suitcases.
Have you got your toothbrush? It might sound basic, but there are a large number of people in the UK who forget to pack their toothbrush when going on holiday! Treat yourself to a brand new brush, and squeeze in a travel sized mouthwash and dental floss into your washbag as well.
Limit your sugar intake. Rather than sticking to three meals a day, holidaymakers are more like to graze and snack on sugary foods. This puts your teeth at a far greater risk as they are exposed to sugar more frequently throughout the day than they would be usually, so if you are going to snack, try to stick to the more savoury options.
Limit the amount of soft drinks and alcohol you consume. Try to choose alcoholic drinks which are lower in sugar and remember that alcohol is one of the main causes of oral cancer, so drink in moderation.
Ensure that you drink plenty of water. Whether you are going to be enjoying a sunny beach holiday, or perhaps an adventure holiday in cooler climes, it's vital that you keep a healthy water level maintained at all times.
Use sunscreen.

You may be wondering how using sunscreen will help you to protect your mouth, but don't forget that prolonged exposure to the sun can lead to forms of oral cancer. By applying sunscreen to your lips, which are already at risk from the sun due to the naturally thin skin and lack of melanin, you will be helping to protect your mouth from harmful UV rays.
One final point and the most important – enjoy your holiday?