Summer may have already come and gone – let's hope not, but it`may be time to pack for your much awaited break and show off your summer smile.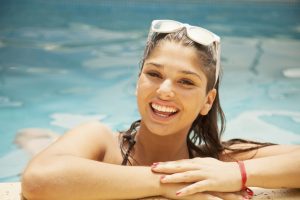 Summer is always a season that manages to make most people smile and luckily, there's even more good news – sunbathing could improve the health of your gums!
Vitamin D has long been known to play a big role in the strength of your bones and the health of your teeth, and sunlight is the perfect way to boost your levels.
There are many dangers of being in the sun too long and these are well documented. To stay safe you should always use the appropriate factor sunscreen and don't forget to protect your lips too as this is an area many people forget. Staying well hydrated by drinking plenty of water is also important and as a bonus this is good for your teeth too. If you take all of these precautions then you should be able to safely enjoy being outside and topping up your vitamin D levels.
So the summer is here so get outside and while you are enjoying the sun you can be reassured that you are taking the first step to better oral health. Another great case of prevention being better than the cure and sunbathing is a preventative measure.
Also, once you have your suntan, your smile will naturally look lighter against your darker skin – only thing is this won't last once your tan fades!