Susan came to Brightside (very reluctantly) for the first time, having been recommended to us by her cousin Brenda. Brenda saw us, having avoided the dentist for 30 years and for Susan it was over 15 years, having previously had her dental treatment carried out whilst in the military.
She had various bad experiences and finally got to the point where she was too unhappy with her smile not to do anything about it and the push from her cousin finally gave her the confidence to book an appointment.
Susan's main fears were around the noises and in particular the drill. Extensive treatment was carried out by Brightside's principal dentist Ketan and Clinical Dental Technician Caroline, including:
hygiene treatment
extractions
fillings
crown work
teeth whitening
denture work
composite bonding

Much of the treatment was carried out using intravenous sedation to make the experience more comfortable and pleasant. Find out more about sedation here: https://www.brightsidedental.co.uk/sedation-dentistry-bounds- green.html
Susan now has a smile she is happy with and is more confident about visiting the dentist and will now be attending regularly as part of Brightside's Membership Club https://www.brightsidedental.co.uk/dental-payment-plan.html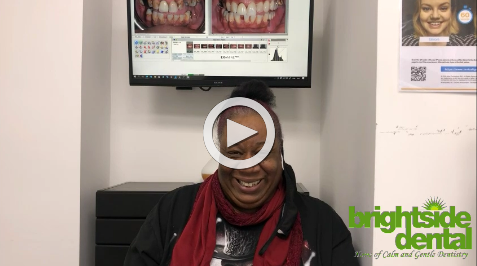 If you have a friend or family member who is nervous or super scared of visiting the dentist, please encourage them to visit us and we are confident we will be able to put them at ease and meet their dental needs.
Please contact us on 020 88884401 or email: [email protected]