Ron had been a regular patient of Dr Paarth Darbar and Brightside Dental for almost five years. Over this period, we carried out routine treatments such as fillings, extractions and dental hygiene treatment.
During these visits Ron often mentioned how we has unhappy with the appearance of his front teeth, which had multiple fillings which had to be replaced on multiple occasions, and had become worn, stained and chipped. Having discoloured, chipped teeth affected his confidence, and he was self-conscious when smiling.
Ron was an anxious patient and had never previously discussed his concerns with a dentist. Over the course of a couple of visits, we went into a lot of detail and outlined all his options. We discussed porcelain veneers and crowns, a combination of both, and also a new fresh set of composite bonding. We even managed to give him a preview of what his teeth would like after treatment through something called a 'Wax Up'.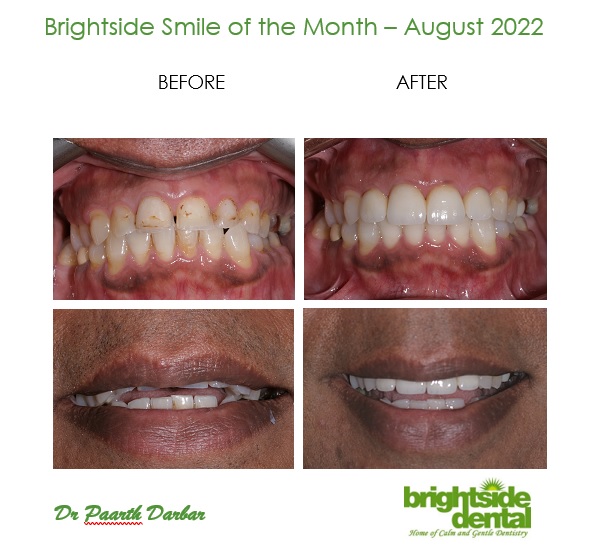 Ron decided that he wanted to have something that would last and not stain so frequently as his previous composite fillings. With this in mind, Ron decided to have porcelain veneers placed for his front four teeth.
We arranged a digital scan for Ron and got him started on his journey by freshening up his smile with Enlighten premium teeth whitening. Ron got a custom set of whitening trays along with whitening gel, which he used for two weeks at home. This was followed by an hour session of whitening in the practice.
We then went ahead with the veneers over two visits. The first visit we removed the old fillings and prepared the teeth and fitted Ron with some provisional restorations which were to the same shape as the planned veneers. This enables Ron to test out his new smile. He was over the moon with the temporaries and some of his friends thought they were the real ones!
Ron was having custom made veneers, which meant in between visits he went to visit the lovely lab technician team at Luke Barnett, and designed the veneers along with the technician. He got to decide the shape, size and exact colour he wanted. On the second visit to Brightside we fitted his veneers. Ron was extremely pleased with the result, which was planned in detail to give a predictable end result.
Here is what Ron has to say about his experience: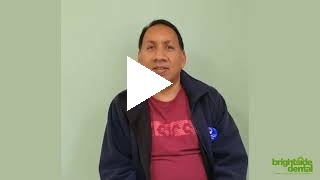 When carefully planned and designed, we can achieve amazing, long-lasting results with teeth whitening porcelain veneers, with minimal tooth preparation. If you would like to find out more please contact us on  020 88884401.