Donald regularly attended Brightside Dental following his first visit in 2015. In late 2019, he decided to look into options to improve his smile. Donald's main concerns were that his upper front teeth were discoloured and he
had spaces between his teeth. He had had braces in the past, but his retainers broke and were not replaced. His teeth subsequently moved.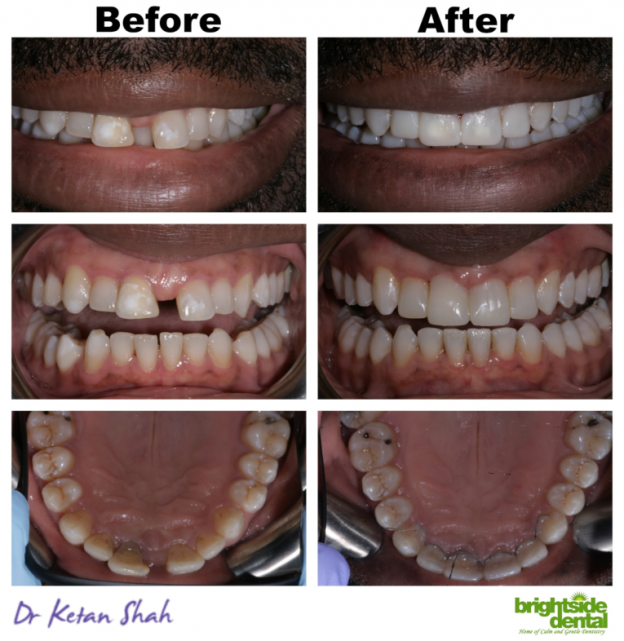 He saw Dr Paarth Darbar for a consultation and extensive planning. The first plan involved six porcelain veneers on the upper front teeth which would improve the colour of the teeth and close the spaces. The issue was that the teeth would look wide in size.
Donald was referred to Dr Ketan Shah to assess whether orthodontic treatment would be an option to improve the positions of the teeth before improving the proportions and colour.
After looking at all the options in detail, the following plan was agreed:
-Teeth straightening using Invisalign clear aligners
-Professional teeth whitening
-Veneers to improve the upper front teeth
Donald's Invisalign aligners were fitted in March 2020—less than two weeks
before the first lockdown due to Covid-19. Although the practice was closed for almost three months, we were able to provide Donald with his aligners and monitor treatment via video consultations. This meant he was able to continue with his treatment with minimal delays.
Donald's teeth were fully aligned in just over a year. We then reviewed the
progress and cosmetic appearance at that time, along with revisiting treatment options for further cosmetic improvement.
Donald's plan was changed to place Smilefast composite veneers rather than porcelain. This had the benefits of being a faster treatment option. It was also less invasive as more, healthy tooth tissue was preserved and significantly less costly.
Donald's full treatment took under 16 months and we achieved (and exceeded) his expectations of how much his smile could be improved.
See Donald share his experience here:https://www.youtube.com/watch?v=ZHa9vBPZHaY
If you would like to know more about how we could help improve your smile, you can phone the practice at 020 88884401 or email:
[email protected]