Rafael has been a regular patient of Brightside Dental for many years. We had carried out routine treatment over the years, but now Rafael was looking for a cosmetic improvement.
He had previously tried out over the counter whitening procedures and was not happy with the results. His main concern was a dark front tooth, and the overall colour of his teeth. When younger, Rafael had suffered some trauma to his front tooth. This resulted in the need for root canal treatment for this tooth. Unfortunately, this then resulted in the tooth darkening over time and having a grey appearance. This is a common problem that many people have.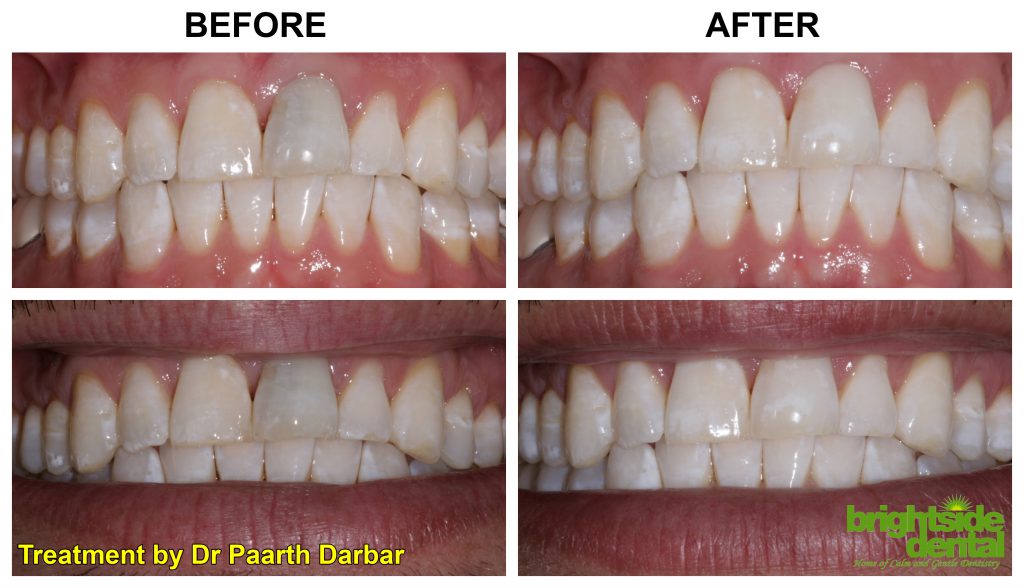 Rafael was unsure on how to resolve the dark front tooth. He thought that he would require invasive treatment with crowns or veneers. While these are options, there was a much simpler way to help the situation.
Our aim here at Brightside Dental is to carry out minimally invasive dentistry and preserve as much of your natural tooth as possible. The option of having professional Internal and External whitening to help improve the appearance was discussed by Dr Darbar. The best thing about this was there are no needles involved!
We proceeded to take a digital scan of the teeth (no more messy impressions!!) and a set of whitening trays were custom made and provided along with whitening gel. Rafael then carried out the internal and external whitening over 2 weeks at home at his convenience. He was very happy with the results and now has a brand
new smile he can feel proud of!
As mentioned, having a dark front tooth is a very common problem that we often encounter. If you would like to find out more on how we could help improve your smile contact us on 02088884401.