Liam first visited Brightside Dental in 2021, after being recommended by a friend who had cosmetic dental treatment with us.
Liam knew what he wanted to change about his smile. His front teeth had become worn and discoloured over time. This left him unhappy with the colour of his teeth and the spaces between them.
Following a consultation with Dr Ketan Shah and a discussion on the available treatment options, Liam chose to have Invisalign clear aligner treatment to align his teeth and close the spaces.
The treatment went very smoothly and only took 10 visits to the practice in total from fitting of the aligners, over a period of under a year.
Less appointments were needed in the practice as we used Dental Monitoring, using advanced A.I. technology, to keep a weekly review on the progress of his treatment remotely. This suited Liam very well as he works outside of London and appointments that were required were pre planned to fit around his schedule.
Liam's treatment consisted of:
• Invisalign teeth straightening
• Teeth whitening
• Composite bonding of the front teeth
• Retainers to prevent unwanted movement of the teeth
Liam has achieved the smile he always wanted in a very conservative manner with no damage to his teeth and is now all set for his upcoming wedding.
Watch Liam share his experience of the process and how he feels about his new smile: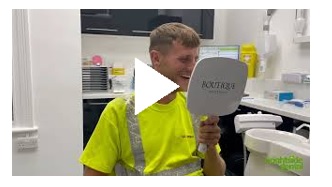 If you would like to know more about how we could help improve your smile, you can phone the practice at 020 88884401 or email:
[email protected].