Diabetes week is every year between 11th June until 17th June. This awareness week is devoted to have all supporters come together to express their stories, to raise awareness of diabetes and help fund research into the condition. Living with diabetes is difficult, there are many factors to consider which can be stressful for you and your relatives, however you should not need to put your life on hold. There are several ways you can fit diabetes around your life style, from what you can eat to how you can treat and manage the condition effectively. Visit https://www.diabetes.org.uk/Guide-to-diabetes for information and advice.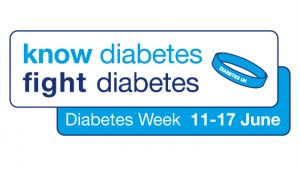 Diabetes and dental health:
Oral health issues can be more common if you have diabetes. Therefore, taking great care of your dental health is very important to prevent dental complications developing. Keeping your blood sugar within a normal range will reduce this risk. Having a balanced diet, exercising regularly and giving up smoking is extremely advisable to lessen the risk of oral health problems. Making sure you visit the dentist as regularly as advised, ensures that any infections will be treated as early as possible. You should inform your dentist if you had the condition recently diagnosed or have a long standing diabetes as this can affect your dental treatment and how often they must review your teeth and gums.
Diabetes and your mouth:
·         You may have less saliva which can cause dry mouth
·         As saliva protects the teeth, you may be at increased risk of cavities.
·         Receeding gums
·         Problems tasting food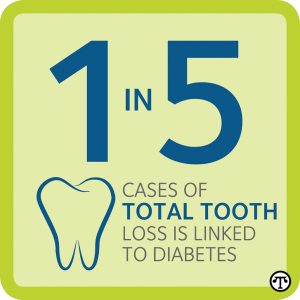 ·         Wounds taking longer to heal, for example after you had a tooth removed.
·         You may be more prone to infections inside your mouth
·         For children with diabetes, teeth may erupt earlier than usually.
Diabetes and gum disease:
Having prolonged high blood glucose can lead to gum disease escalating quickly, but keeping the levels within normal range can reduced the risk of infection spreading.
There are 3 stages of gum disease:
·         Gingivitis: this is an initial stage of gum disease caused by poor oral hygiene and plaque not being removed from the teeth.  It shows as inflamed, red and tender gums and can cause bleeding when brushing. This condition can by reversed by visiting the dentist/hygienist regularly and keeping a good oral health at home too.
·         Periodontitis (mild): at this stage there will be damage to the teeth and bone supporting teeth. This is more common for those who have a family history of gum disease, uncontrolled diabetes and poor oral hygiene.
·         Periodontitis (severe): this is the most advanced stage of gum disease and is characterised by tissue and bone loss around the teeth which can lead to loose teeth.
Get involved for Diabetes week 2018:
·         Use the hashtags #diabetesweek and #talkaboutdiabetes and join the conversations on social media.
·         Share your stories with other supporters online throughout the week
·         Fundraise throughout the week
To find out more, visit https://www.diabetes.org.uk/index.php/get_involved/diabetes-week.
 For any advice and information or to arrange an appointment with your dentist/hygienist please give us a call on 02088884401.