We recently undertook our CPR training in the practice.  All the team members were present for an afternoon of refreshing our knowledge of an important skill to have – the knowledge can mean a matter of life or death.  Fortunately, none of us have been in the situation of having to deal with a serious medical emergency or provide CPR and this is a reason for us to have annual training in case we find ourselves in this situation and we are in the position of having emergency equipment and drugs in the practice, which you would not have at home.
I think it is important and useful for everyone to have some knowledge of CPR, as you never know when the need may arise.  Just yesterday, I heard of a distant relative who died from choking whilst having his dinner.  Would it have been possible to prevent this tragedy?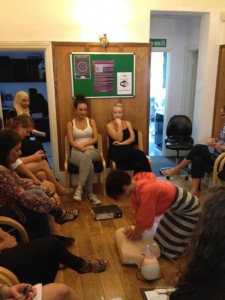 What is CPR?
– It stands for cardiopulmonary resuscitation.
– Performed on people suffering cardiac arrest.
– Provides a continuous flow of oxygen to the lungs and brain until the person regains consciousness.
Why CPR is important?
The brain can only survive about five minutes without oxygen, after which time permanent damage is done.
You are upping a chance of a full recovery by performing CPR.
You are potentially saving a life!
For parents this is especially true. Children younger than 5 tend to put objects in their mouths, and this behaviour can lead to choking. Choking is a leading cause of death in this age group. Knowing what to do and how to perform CPR allows you to act quickly.
It is always better to have multiple people who are CPR certified in a crisis. One person performing CPR can tire quickly. Two people alternating can provide CPR longer than a person working alone.
There are many courses available and it may be something that your employer may provide.
Ketan Shah