I was on a training course titled "The Supercharged Dentist" recently and being part of a fast moving and ever changing profession, expected to come away from it learning about the latest gadgets and techniques for treating our patients.
Click to see a video with more about the course and learnings from it: https://youtu.be/LPAQyFwjzps
Instead, I was pleasantly surprised that between the various speakers, most of the content was not necessarily things I didn't know but was presented in a way to change the thinking about approaches to dental treatment and communication with our patients and support teams such as dental laboratories.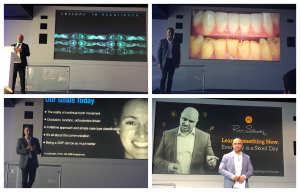 As a result, we will be putting place a number of small changes in the way we work on a daily basis at Brightside Dental, which I believe will have a significant and positive impact on our patient care.
This applies to all of our lives and some of the things we don routinely and not just related to work. As an example, many of our patients see our dental hygienists on a regular basis. Often they know what they should be doing every day at home to maintain their mouth in the best way, however this doesn't always happen – as LIFE gets in the way. By having some assistance and reinforcement on a regular basis, it is easier to keep good habits.
What other areas in your life could you make simple changes for the better?
If you have any questions or need further help or assistance, please give us a call on 020 88884401.