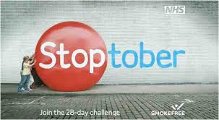 October is the month that smokers are urged to give up smoking by taking up the 28 day non-smoking challenge.  Research shows that by stopping for 28 days, you are a lot more likely in being successful in giving up for good.  It is believed that those who give up smoking could add an extra week to their life for every 28 days they are smoke free.
There are many resources available online, see https://stoptober.smokefree.nhs.uk/
If you would prefer more local and personal support, please contact us at Brightside Dental and we can let you know of the nearest clinic to you.
Smoking has an impact on many areas of general health and has a number of effects on the mouth, including:
– Increased risk and severity of gum disease
– Bad breath
– Stained teeth
– Increased risk of mouth cancer
As well as the health benefits, quitting smoking would save the average smoker over £150 per month. What would you do with an extra £1800 per year?
If you would like any help in taking the first step in stopping smoking give us a call on 020 88884401