Over the last year, we have found an increasing number of people have chosen to improve their smile. Whether through having more time available while being unable to socialise, spending increasing time on video calls, or having money available that may have been spent on a holiday.
If you have become increasingly self-conscious about your smile from spending hours on Zoom calls, or simply feel that you will benefit from an enhanced smile, Invisalign teeth straightening could be the solution for you.
It's a great option for improving crooked/twisted teeth or reducing gaps between front teeth.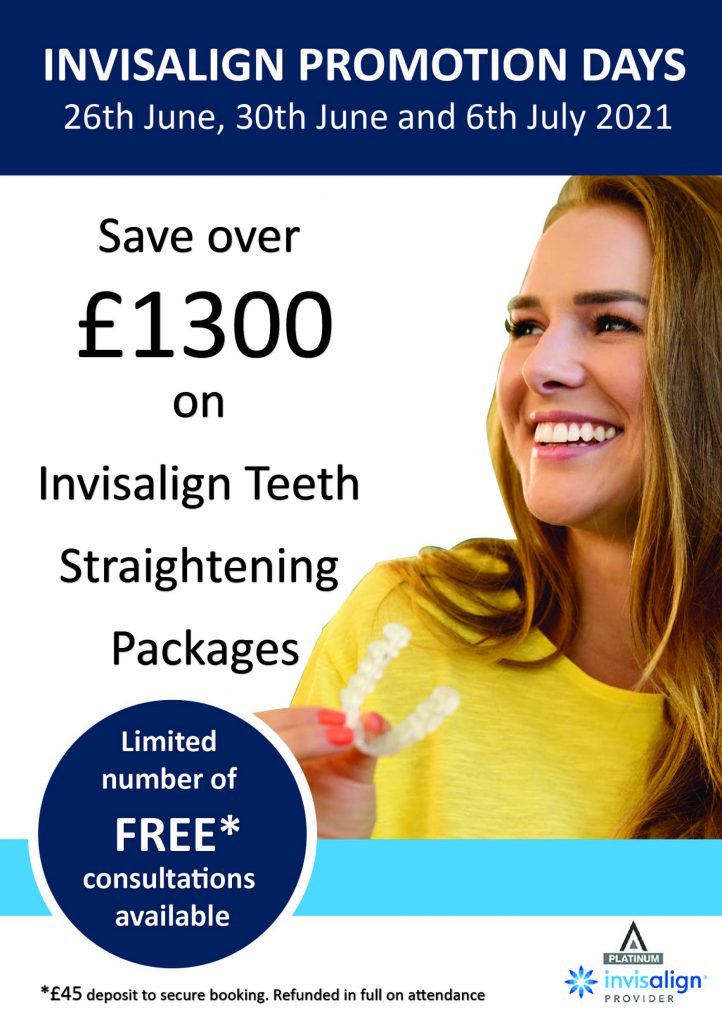 Invisalign aligners are very discreet. So if you're on a video call no-one will know you're wearing them. Plus you can eat and drink without any restrictions, just like with traditional fixed braces. They apply gentle pressure to move your teeth which means you experience very little discomfort during the straightening process.
You can read more about Invisalign here.
We have three upcoming Invisalign Promotion Days on 26th June, 30th June and 6th July, during which we are offering a FREE consultation to assess your suitability for Invisalign treatment and savings on any subsequent Invisalign treatment worth over £1300.
This consultation includes:
An assessment of your teeth and gums
A series of digital photographs
A digital scan of your teeth
An x-ray if required
Advice on your suitability for teeth straightening
An estimated timeframe for treatment
An indication of fees
None of us know exactly what will happen in the coming months due to Covid. With current restrictions being extended further, it's hard to plan for many things. However, if you choose to go ahead with Invisalign treatment following your consultation, you can be sure you will be able to continue your treatment should you be unable to visit the practice, as we can monitor your progress remotely with the most advanced A.I. technology available in dentistry.
To take up this opportunity and find out how we could improve your smile, book your FREE* consultation here now – limited appointments available.
*A £45 fully refundable deposit is required to secure your booking.
If you know of any friends or family members who may benefit from teeth straightening, please do pass on details of this opportunity.
In the meantime, if you have any questions, please call 020 88884401 or email [email protected]. Our team will be happy to help you.