Our mission is "Transforming lives and making people smile"! At Brightside Dental we strive to understand each and every one of our client's needs and wants so that at the end of their session (no matter if they had root canal treatment or just an assessment) they will say to their friends that their dentist has given them exceptional caring dental treatment.
We care and that's why we ask our clients how we did after every appointment. We want to know whether everyone you met here was friendly and if their advice was helpful. So that in the future we'll know if our approach is a good on or it needs a boost.
We would like to ensure that we saw you on time and if not we will always apologise and offer to compensate the shortfall with either a present for you or a donation on your behalf to our charity of the month.
We need to know if the treatment you had here has been a painful so that in the future we improve our technique in order to deliver a pain-free experience for as close to 100% of our clients as possible.
All of the above are questions we ask to each and every client that visits us, by handing them a little feedback slip with 3 short questions: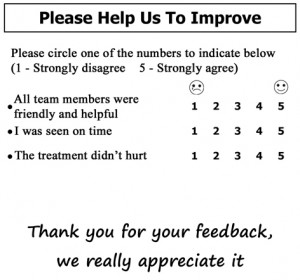 And we are proud to say that analysing the results from 661 feedback slips our clients have filled out throughout the month of April (878 bookings in total), 96.7% of the clients have said that our team members are friendly and helpful, 87.7% were seen on time and 87.9 % haven't felt any pain during the treatment.
We review our ratings and feedback daily so that we can make improvements to our service with immediate effect and we will continue keeping a close eye on our activity but if you have any suggestions don't hesitate to share them with us either by email, telephone or write them down on our suggestion cards at the reception desk.
020 8888 4401