As our existing clients know, we ask them to complete a feedback form at the end of every visit with us. We look at the results on a daily and monthly basis, so that we know what we're doing well, but more importantly to see how we can improve. This enables us to take any corrective action immediately.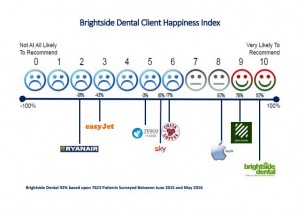 One of the questions asked is how likely you would recommend us to your friends or family. The results for this are shown on our Patient Happiness Index. This is more commonly known as a net promoter score and is something that's being carried out by many companies worldwide. It's something we have been doing at Brightside Dental for the past 3 and a half years. We aim to survey every client we see, whereas for many companies, it's a small proportion of their customer base. https://www.youtube.com/watch?v=zvmxazP2cEs
We are very proud of the results and will continue to strive to improve. If you have any suggestions for this, please email us or give us a call. If you are happy with our service, we would really appreciate it if you could take a couple of minutes to place a review about us online.