We are delighted to kick off the year in a really positive way, with the announcement of our new Patient Membership Club.
The new club will benefit you if you visit the practice on a regular basis and want us to help you maintain the health of your mouth in the best possible way, along with having the peace of mind that your preventive dental care is covered.
It enables you to spread the cost of your regular care and delivers member benefits and reductions.
Join our club…
It couldn't be easier to join the Brightside Club – unlike most insurance policies, you don't need to be dentally fit to join. We offer a selection of plans to best meet your own requirements and will guide you to ensure we recommend the right level of plan for you.
10 reasons for you to join…
• Oral health assessments included (value £49.00 each) *
• Dental hygiene treatments included (value £82.00 each)
• Complimentary x-rays as clinically necessary (small x-rays value £14.00 each; large x-rays value £45.00 each)
• Digital scans as clinically necessary – usually £45.00 each
• 10% reduction in the cost of private dental treatments **
• Convenient monthly direct debit payments spread the cost of your regular dental care throughout the year
• Members don't need to be dentally fit to join our plan and benefits commence immediately
• Regular maintenance can lead to reduced treatment needs and costs, as issues can be identified at an early stage
• Minimum savings of at least one month's membership payment compared with pay-as-you-go
• No joining fee (usually £10.00).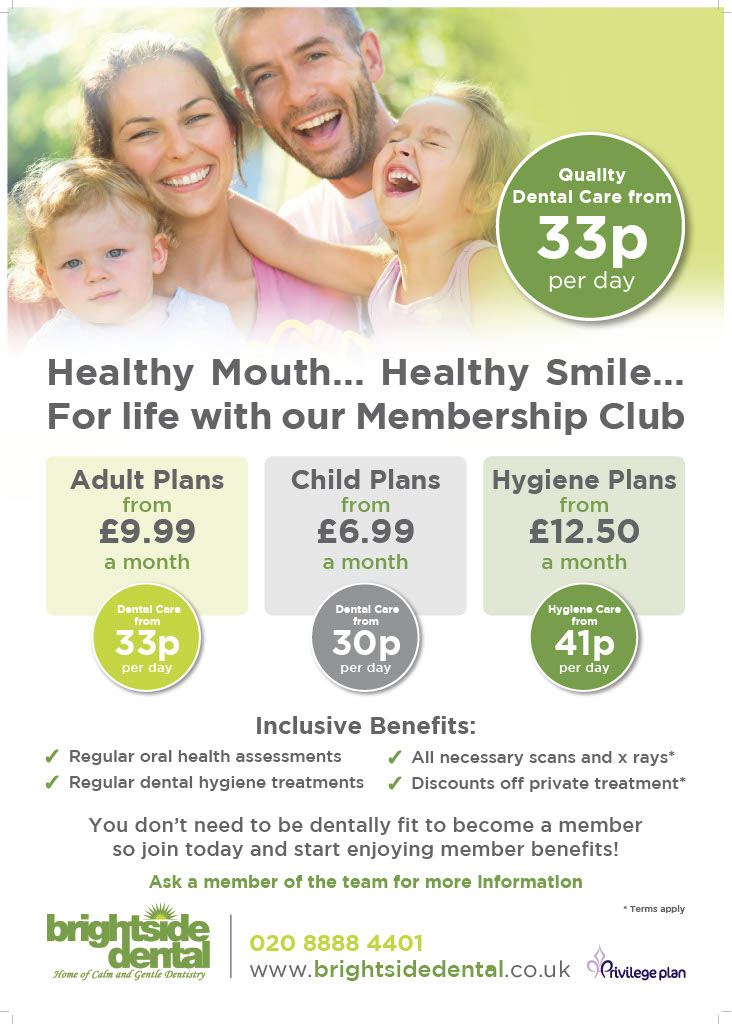 If you would like more information, or to join, you can phone the practice on 020 88884401 or email: [email protected]