As all of our regular patients are aware, we ask you to complete a short feedback form at the end of each visit with us.
What happens with these forms?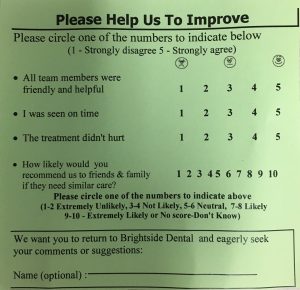 We review all forms completed at the end of each day and we regularly discuss the results and comments in our daily team meetings. If for any reason, we have low scores and there is a name on that form, we will call the patient to discuss and hopefully resolve their concerns. We love to see the great feedback we receive, but just as much, we would like to know if you're not happy so that we can do our best to put it right.
Here are the ratings for the month of May: https://www.youtube.com/watch?v=RaF6H22_OXM&feature=youtu.be
We will be running a series of regular videos in the future. If there are any dental topics you would like advice or help with, please let us know and we will do our best to answer your query.