If you wonder whether we've gone mad talking about wands on a dental blog, well the answer is no. There is such a thing called "The Wand" and our clients can now ask to experience "the magic" here at Brightside Dental.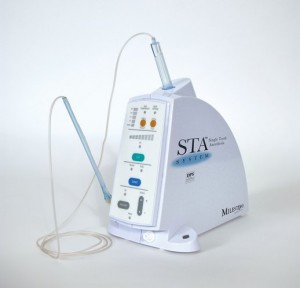 What is the wand, you might say? It is "a computer-controlled dental injection" and it helps to gradually deliver the local anaesthetic to the gums prior to the treatment.
Many nervous people are sometimes more afraid of the injection than the actual treatment as they think the injection hurts. It has been discovered that the actual piercing of the gums with the needle is not the cause of the sting but the pain comes from the speed with which the anaesthetic is delivered. The faster it's done, the more it hurts. So by using a computer to control this is what makes a dental injection virtually pain free.
It has taken quite a long period of time for the Wand to be accepted in the UK but it's been here for while now and it's becoming slowly more popular. Brightside Dental are one of the few dental clinics in North London offering this advanced technology.
Our main focus on caring for anxious people had made us look for new ways of ensuring that our clients' experience here would be the most pleasant and painless they ever had. We have brainstormed and researched to find the best ways to avoid their discomfort and to create an environment that would put them at ease every time they visit us.
We started by putting an emphasis on the methods we currently use to provide pain-free dentistry and moved on to introduce innovative ideas. We've tried it out on our own team members with fantastic results.
The Wand is not a new product on the market but it's still fairly rarely used and our clients that have chosen to try it already have left us raving reviews:
"I've just had the new "Wand", it was FAB. Will definitely have it again, no more needles." – Karen Walters
It doesn't even look like a syringe at all, more like a pen. It is similar to an electronic device (which is the computerised base) with a tube through which the anaesthetic is delivered that has a pen-like ending.
It is just as effective as traditional local anaesthetic but it is much more comfortable than the numbing feeling you get when the syringe is used.
You have the benefits of a pain free injection with less anaesthetic, so you won't have a droopy face and be dribbling for hours and can carry on with the rest of your day without concern.