We are surrounded by people. We work with them, have fun, compete, follow them, confide in, count on, love, live with them. Our whole world revolves around others like us. But we simply don't always realize that, as it comes so naturally.
At Brightside Dental we have always put our client first. And it is true, it's supposed to be like that but in order to serve our clients at the highest standards we must ensure the foundation of our services is solid. And that base is our team. Without our brilliant dentists' skills, our fantastic nurses caring manner or our fabulous reception members' efficiency, we wouldn't be who we are now.
So, with the emphasis set in place on our lovely colleagues we decided to do more than just training. Ketan wanted to give something back to the people who are here day to day to provide excellent dental care.
And what better way to put you in the mood for team bonding is there, other than having some delicious chocolate? It's been scientifically proven to boost production of endorphin, the substance that gives the feelings of happiness and pleasure.
He kept everything secret and told the entire team it is going to be a fun day, giving away nothing else. We all met in central London and made our way to the venue. The signs on the walls were subtle hints as to what was to come next.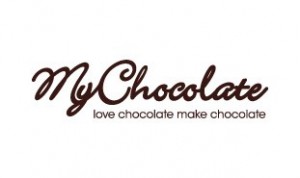 The day started with a relaxed discussion on where we are now, what is our mission, what are our values, where are we heading? We dissected our expenses, turnover, services to the core in order to have an idea on how we are going to position ourselves in the future and continue to serve our clients in the best way we can. We got to know each other better and exchanged ideas on improving Brightside Dental's activity in 2013.
The afternoon consisted of the mouth watering experience that completed a very productive and entertaining day. The Master Chocolatier from "My chocolate" initiated us in the art of making chocolates first before introducing us to what will happen afterwards. We all had our melted milk and dark chocolate and decorations to practice with.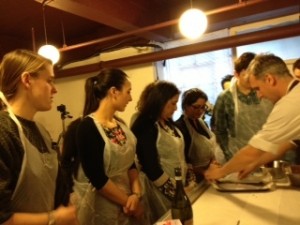 Proud of our first creations we were then presented with the best part of the entire experience. We were going to compete with each other in a "The Apprentice" style challenge. The team divided into two groups and were given new ingredients, the rules of the competition and an envelope for each group containing details of the target market. We were supposed to create our own original product to serve a certain type of clientele, come up with a presentation and an advert.
Meera, Adam, Hannah, Ketan, Gia and Sheelna formed the team who designed the "Eternity" chocolates aimed at over 50s.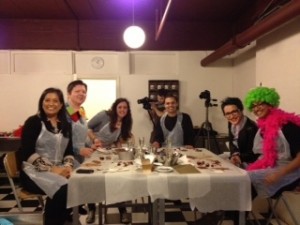 Faith, Agnieszka, Lia, Lucy and Ola tackled the challenge of attracting children through their unique chocolate concept "Wotchoc!".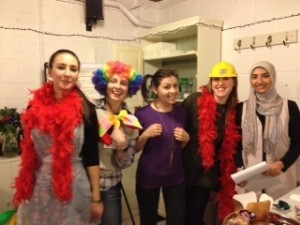 We were all winners at the end as working together to achieve one goal enabled us to get to know our personalities more, to appreciate our different talents and to encourage and support each other.