Recently the dental hygienists from Brightside Dental, Eleanor and Lyndsey along with practice principal Ketan attended a 2 day conference in Manchester.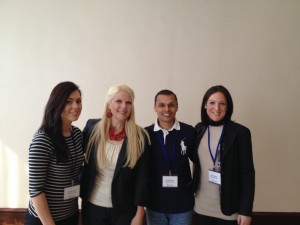 The main focus of the event was hygiene treatment and gum health.  It was organised by the Team Training Institute and their member Wendy Briggs chaired the 2 days.  She is a practicing dental hygienist from America and lectures extensively on the subject.  This was the first time, such an event has taken place in the UK and we were fortunate to be one of only a select few dental practices to be able to attend the event.
As a result of the training, we will be able to build upon our already extensive hygiene services that we provide. Also we will be placing an even greater emphasis on preventive care, with some new treatments available with a view to helping our clients keep their teeth for life.
There was also a large emphasis on the mind-body connection. We have been aware of gum disease having an impact on other diseases and conditions within the body for some time and the latest research shows that this is becoming much more extensive, so the need for maintaining a healthy mouth is more important than ever.
If you would like to know more about how we can help in the fight against gum disease please call us on 020 88884401.