As all our regular patients know, we ask for their feedback at each visit with us so we can assess our performance and work on ways we can improve our level of customer service.
Ketan, our practice principal share the feedback results for July in this video and also talks about online reviews that have been placed about us by our patients.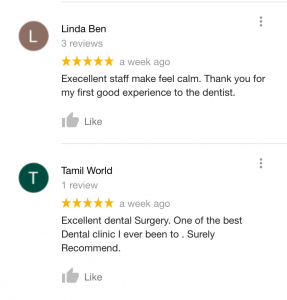 We have found that aside from being directly recommended by someone who sees us, the main reason people choose our practice is due to the online reviews they read about us and from video testimonials from happy patients.
Just last week, we saw someone who was very nervous about visiting the dentist and having seen, she was forced to look elsewhere when her dentist of over 25 years retired. It took her over 9 months of searching and she chose Brightside because of our reviews and she felt we were the right practice for her and could help her, which has proved to be true.
Thanks very much to those who have taken the time to place a review about us to help us out, as well as prospective patients of our practice.
If you are happy with our services and can spare a moment to share how you feel about us please click http://reviews.toponepercent.co.uk/brightsidedental/