The rules and regulations in the medical field are getting stricter and more thorough every day. It is our legal, but even more importantly, our moral and ethical obligation to comply with these guidelines in order to ensure we provide the best service to our clients.
The Care Quality Commission (CQC) is the independent regulator of health and adult social care services in England.
The CQC is in charge of ensuring that the care provided by hospitals, dentists, ambulances, care homes and home-care agencies meets government standards of quality and safety.
The CQC's guidance is generic; applying to all providers of health and adult social care. The BDA (British Dental Association) have interpreted the outcomes for dentistry to help practices comply with the CQC's requirements.
The essential standards of safety and quality consist of 28 outcomes, which have been grouped into six key areas:
• Involvement and information
• Personalised care, treatment and support
• Safeguarding and safety
• Quality and management
• Suitability of management
Sixteen of these outcomes relate most directly to the quality of safety and care and will be the focus of CQC checks for compliance. Click here to find out more:
The Brightside Dental's view is not only to fully comply with all these requirements but to step it up a notch and offer a unique experience that will make every client brag about how they love coming to the dentist.
The first steps taken into implementing all of the above were registering with the CQC and getting all the help we needed to understand what we were asked to do.
We had a considerable amount of training provided by an independent consultant and we began introducing new policies, updating the old ones or implementing new procedures in order to achieve our goals.
It was hard work for the principal dentist – Ketan – who was leading the entire team and for the practice overall.
By the end of the year we managed to go through all of the outcomes but we didn't stop there.
We created a dedicated decontamination room to ensure our equipment is sterilised and stored in the ideal way.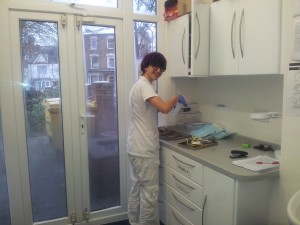 Furthermore, starting this year we are planning to review regularly our CQC Compliance folder by going through each outcome during our general meetings in order to refresh our memories and keep up with any changes that might have incurred in the meantime.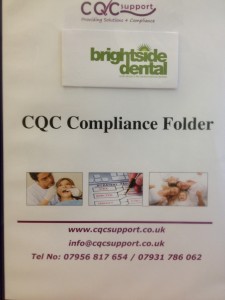 At our first general meeting in January two of the team members have worked on a quick review of our policies and procedures and presented the main aspects of our compliance with the Outcome 1 and 2. The next meeting is scheduled to include the same structure for Outcomes 4 and 5 and we will continue in the same manner to cover all of the requirements.
If you have any questions regarding any of the points regulated by the CQC, we are happy to help so don't hesitate to contact us at the practice or drop us a comment/message on our Facebook page by following this link:
http://www.facebook.com/BrightsideDentalUK