Well, actually Elvis Presley's dental crown is coming to Brightside Dental.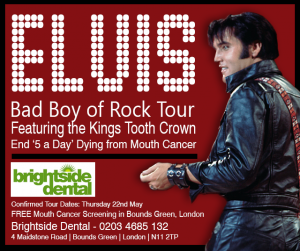 The King's Crown, if you will, was created in the 1970′s by Presley's dentist Henry J Weiss. It was bought at auction a couple of years ago for £6,500 by Canadian dentist Michael Zuk.
The crown is touring 11 UK dental practices, with Brightside Dental being the one that has been selected for London on 22nd May 2014.  There will be an Elvis themed day, which promises to be very different to your normal dental visit.
The purpose of the event is to raise awareness for mouth cancer, with currently 5 people dying from the disease per day in the UK.  It does not have to be this way as early detection greatly improves the survival rate.  We will be carrying out free mouth cancer screenings on the day and will be raising money for the Mouth Cancer Foundation.
If you would like to book an appointment give us a call on 020 88884401 or just pop in and let you friends and family know, especially if they are Elvis fans.