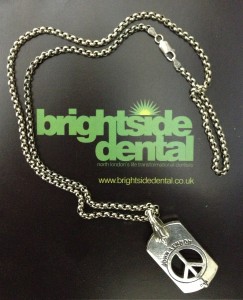 Contrary to what some people might say having fun at work will not disrupt the smooth running of things. And the Brightside Dental team has proved just that on Thu 22/11/12.
It all started with … a tooth.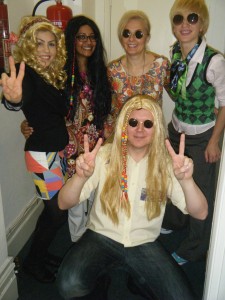 The purpose of this special day was to raise community awareness on the early signs and prevention of mouth cancer. We decided to get involved in a project that has included dental practices all over the UK and Ireland and has proven to be a success. It is based on, believe or not, the tooth of John Lennon, well part of it at least.
It is said that one of John Lennon's housekeepers has been given the tooth to dispose of but she was also suggested that she could maybe keep it as it might be worth something in a few years. She indeed kept it in the family until, forced by an unfortunate circumstance, she decided to sell it at an auction.
The tooth was bought by an eccentric celebrity dentist – Michael Zuk – who decided to turn it into a beautiful piece of jewellery crafted by a famous jeweller in Los Angeles. And so the story of John Lennon's DNA necklace begins.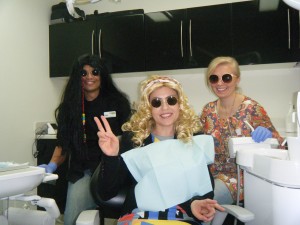 For the past few weeks the necklace has been passed on from one dental practice to another to celebrate the Beatles 50 Anniversary and has included free cancer screenings to the people in the community. The news have reached different media organisations and has spread at a fast moving pace. Check BBC's article by following this link:
http://www.bbc.co.uk/news/uk-england-merseyside-15606017
The Brightside team has joined the project and on Thu 22 of November 2012 has gone back 40 years. Flared jeans, flowers and colourful outfits, long hair and sun shades, the Beatles playing in the background and free cancer screenings for everybody were just a few of the highlights of the day.
We were very pleased to see that people showed interest in the event and that they actually contacted us to book appointments for a cancer screen so in the end it was all worth the effort and turned out to be a blast for all team members and clients as well.