As a part of our involvement in the National Mouth Cancer Month and in celebration of 'The Beatles Mania Week Celebrating 50 Years', Brightside Dental has on loan part of John Lennon's Tooth!
John Lennon's tooth recently fetched £19,000 at auction. It was bought by Michael Zuk, author and dentists and obsessive collector of celebrity teeth.
The tooth had been in the family of Lennon's former housekeeper Dot Jarlett. Lennon gave it to her to dispose of, sometime between 1964 and 1968, but then suggested she keep the tooth to give to her daughter, who was a big Beatles fan citing it may be worth something one day. She then had to sell the tooth to pay for a family member's operation.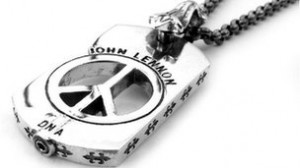 Omega Auction House, which listed the item, told CNN that because it was coming from Jarlett, they don't doubt the tooth's authenticity. Part of the tooth has been turned into a DNA necklace made by famous Beverley Hills jewellery designer Ari Soffer. It is valued at $25,000.
Brightside Dental borrowed the 'John Lennon DNA Tooth Necklace' to highlight Mouth Cancer.
Brightside Dental said, "The Beatles Mania Week Celebrating 50 Years is also an opportunity for local people to diagnose mouth cancer before it's too late. It will be fun, and you even get to wear John Lennon's tooth around your neck, have a picture taken too."
Beatles Mania Mouth Cancer Screening
In 2010 a total of 1,985 deaths occurred from oral (mouth) cancer in the UK. And the real benefit from the 'Beatles Mania Week' is to make local residents aware of the dangers they may face. The largest increases have been in people aged 50-69. So if you fit into this bracket, want to come and listen to the Beatles, get to wear John Lennon's Tooth around your neck, then Brightside Dental welcomes you.
For one day only – 22/11/12 – Brightside Dental is offering those most at risk a 'Free Beatles Mania Mouth Cancer Screening'. It's painless and only takes ten minutes.
Michael Zuk, the 'obsessed' dentist that bought John Lennon's tooth, and incidentally, who also purchased one of Elvis Presley's crowns, released the following statement:
"To celebrate the life of one of Rock & Roll's greatest artists, I am pleased to announce we have teamed up on a unique DNA jewellery project with Los Angeles celebrity jewellery designer Ari Soffer who has made pieces for stars such as Tommy Lee, Axl Rose and Slash. I recently discovered Ari's work after my wife mentioned she'd kill for a diamond encrusted pendant that a Beverly Hills Housewife star was wearing."
Michael Zuk, the celebrity dentist, has appeared on major US TV, Rolling Stone Magazine and NME. He is available for an informative interview directly by phone at his office at 403-347-8008/ fax 403-343-9421. Email [email protected]
A video here from dentist Dr Zuk, 'Collector of Celebrity Teeth':