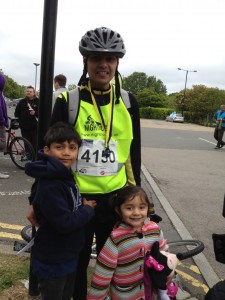 One Sunday afternoon in November last year over lunch, my brother in law asked me if I was up for doing a 100km bike ride that he had completed a few months back.  I said yes immediately without a second thought.  My initial feelings were that this would enable me to directly help support a charity and give me the opportunity to improve my fitness which had slipped over the past couple of years.
On returning home, the negative thoughts started questioning whether I should go through with, but the positives far outweighed these and I signed up for the Nightrider challenge.
I chose the charity Bridge2Aid who I have know about and supported financially in the past.
As a result of the support of my family, friends, colleagues and clients of Brightside Dental I am on my way to achieving my target of raising £1000 for this fantastic charity.
Initially, my main concern was whether I would be able to cycle a distance of 100km, having up to then only cycled 3km to and from work.  As the date got closer, it became more the mental aspect and surviving not having slept for over 24 hours.
The ride itself went as well as I could have planned and it was great to cycle through London throughout the night where many of the roads are quiet and seeing many of the fantastic sights of London.
The support and encouragement of the marshals was great at the rest stops and having my family spur me on up the final hill at Alexandra Palace pushed me to the finish line.
On reflection, the immense tiredness and time spent training was well worth the effort and I am grateful for Bridge2Aid for their help and giving me a reason to push myself outside of my comfort zone.  I've also overcome my fear of cars on the road when cycling, which has been with me since being hit by a car in 2009.  Don't forget if you wish to sponsor me you still can by following this link:
http://uk.virginmoneygiving.com/fundraiser-web/fundraiser/showFundraiserProfilePage.action?userUrl=KetanShah2
By Ketan Shah