National Smile Month is the UK's charity campaign supported by thousands and organised by the Oral Health Foundation. It helps us improve and keep a healthy smile and is the nation's annual reminder about the importance of our oral health, the campaign makes a significant difference to the well-being of millions of people.
The campaign promotes three key messages for people to understand the true worth of their smile:
Brush your teeth at night and at least one other time during the day with a fluoride containing toothpaste.
Cut down the frequency of sugary foods and drinks.
Visit your dentist regularly, as often as they recommend.
Following these key tips can have a major positive impact on your oral health and life-changing benefits. Having a healthy smile can improve your self-confidence, help you in certain aspects of life such as careers. It can improve the health of not only your mouth but your body too, transform your visual appearance and the positivity of your mind set.Moreover, it's not only adults who need help on improving the oral health. Tooth decay is the most common chronic disease in kids. From brushing their first tooth, their first visit to the dentist, to learning more about their diet; all these aspects have a huge impact on the child's oral health from their early years. Therefore, kids following the above key messages will have long-lasting benefits in their adult life too.
Find out more on: http://www.nationalsmilemonth.org/. Also visit our Facebook page for regular tips and advice during the month.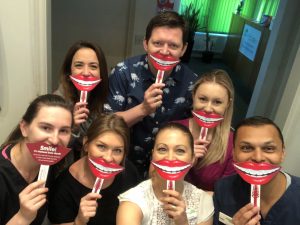 During the National Smile month (14th May-14th June)  Brightside Dental is welcoming you to enter the 'Best Smiley Selfie' contest where you can become the winner of the best selfie and receive the prize of £50 GIFT CARD AT VUE CINEMAS!
To enter the contest, just follow these simple steps:
Come to the practice and take a fun smiley selfie with us! You can pop in and enter even if you don't have an appointment
Like our Facebook Page 
Post the selfie on your Facebook page and tag Brightside Dental 
After completing these 3 steps, you will be entered into the contest.
On 14th June, our team members will select the best selfie and announce the lucky winner!
We look forward to seeing your best smile!