The charity we are supporting this quarter is Dental Mavericks. They are a charity set up to help end daily dental pain for the children of Morocco. Our Principal Dentist, Ketan has joined the Mavericks team for the past 2 years with their projects and travelled to Morocco to help the children.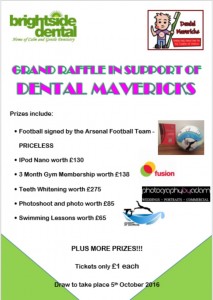 Just imagine, living with your family in an isolated fishing village with no dentists, a high sugar diet, no toothbrushes and no fluoride tooth paste. You don't need to be a dentist to imagine the consequences, but the dental neglect shocks even the most experienced of this group of national dentists and their team. Abscesses, pain and distress, parents of these children in Morocco are no different to any other around the world, they want their children helping.
Ketan along with a group of dentists and team members travelled to the Rif mountains to remote villages. The team treated hundreds of children over the course of the week and mostly carried out extracting rotten teeth, along with fillings and providing education so that the children can look after their own teeth on a daily basis. For Ketan this was a chance to use the skills he has to give something back to people who have considerably less.
Dental Mavericks are also in the process of setting up permanent clinics and oral hygiene programmes working in conjunction with Moroccan dentists.This September the Dental Mavericks team will be returning to Morocco to continue their work.
One way we are supporting the charity is by having a raffle in the practice, with some great prizes, some of which have been kindly donated by local businesses.
You can pop in to the practice to buy raffle tickets at only £1 each, or make a donation online by clicking  http://www.virginmoneygiving.com/KetanShah2 and we can reserve your tickets.
Thanks for your support.