Miriam has been coming to Brightside for many years for her dental care. In 2009, we replaced some failing crowns and fillings with 4 new crowns.
Around 2015, one of the crowned teeth had some issues due to gum problems which meant it moved out of position and needed to be extracted. Miriam had a denture for a few years, which she never got on well with.
She had considered dental implant treatment, but was scared of the treatment being painful. After many discussions, she finally made the decision to go ahead with the dental implant.
Miriam shares her story here: https://youtu.be/gjbAUuh1Czs
The treatment went very smoothly and Miriam was overjoyed with the outcome of treatment, with her main regret (one we regularly experience) is that she wished she had gone ahead sooner with the treatment.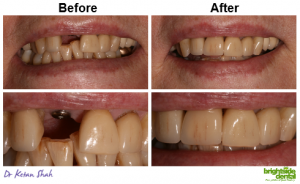 If you would like to know more about our options for replacing missing teeth please call us on  020 88884401.