When many adults think about braces, the first thought that comes to mind is train track braces for children – which is a big misconception. At Brightside Dental, we provide cosmetic teeth straightening for adults which are very different to the metal braces. We provide options to improve your smile in a discreet, simple and cost effective manner.
The treatments we provide fall into 2 main categories – fixed braces which are either cosmetic braces on the outside of the teeth or lingual braces on the inside of the teeth; or removable aligners.
Watch this video for more information about Invisalign and our smile day : https://youtu.be/pvIi2HbrMe4
Of the removable aligners, Invisalign is the most well know and popular brand, who have helped improve the smiles of over 1 million people. At Brightside Dental, our dentists Ketan Shah and Ronit Patel are trained and qualified to provide Invisalign treatment and this is something we have been offering at the practice for over 12 years.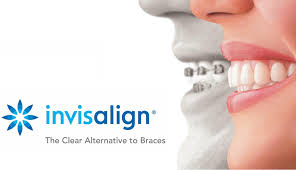 Some of the benefits of Invisalign over traditional braces:
Aligners are removable so you can eat and clean your teeth as normal
They are almost invisible and many of out patients say that people don't know they are wearing them unless they tell them
They are very thin so are comfortable and minimal impact on speech
They gentle move the teeth into the desired positions with little or no discomfort
A wide range of treatment options are available with simple treatments possible to complete in as little as 3 months.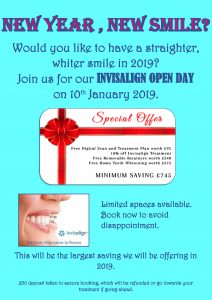 Join us for our Invisalign Smile Day on 10th January 2019 for a free consultation to determine your suitability for Invisalign treatment and have the opportunity to see a digital simulation on the day of how your new smile could look and save a minimum of £745 on the cost of treatment. Invisalign treatment is suitable for adults and children, often who have been refused NHS orthodontic treatment.
To find out more about Invisalign and see patient cases and their experiences of Invisalign treatment, visit https://www.brightsidedental.co.uk/invisalign-bounds-green.html
Contact us on 020 88884401 or email: [email protected] to secure your appointment as limited availability.