Ellen has been a regular patient of Dr Paarth Darbar at Brightside Dental for many years.
She had regular routine treatment, including dental assessments and hygiene but was now looking for a cosmetic improvement.
She was referred to the Orthodontist to have some orthodontic treatment carried out. She had issues with her bite, which was corrected by the Orthodontist and her teeth were now very nice and straight.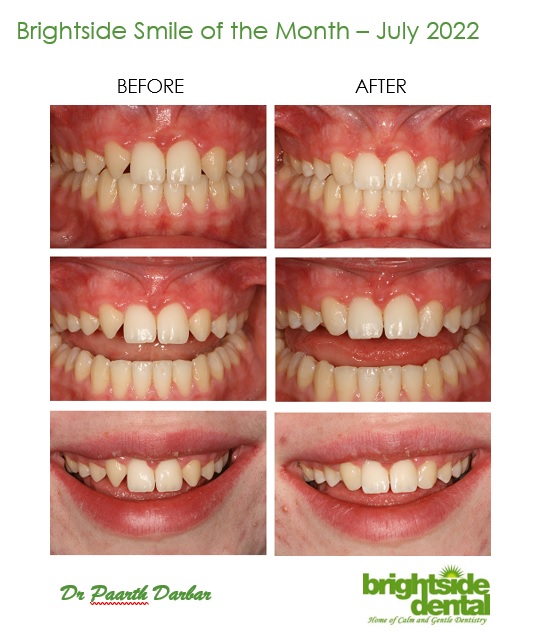 However one problem remained: she had hypodontia. Hypodontia is a condition where one or more teeth are missing. Most commonly, the second tooth on either side of the upper front teeth (the lateral incisors) is affected by hypodontia.
Ellen's braces had closed the gaps in her teeth which were now nice and straight, but this had resulted in the canine teeth being next to the central incisors. Although functionally this is not an issue, aesthetically this can make an individual very conscious about their smile, as the canines are
now at the front of the smile and easily noticeable due to their pointy nature. Missing lateral incisors occur in approximately 2% of people.
Ellen was unsure if anything more could be done to improve these teeth and achieve the perfect smile for her. We sat down and discussed all the options with Ellen, which included crowns, veneers and composite bonding. After due consideration, she decided to proceed with composite bonding as this was the simplest and most cost-effective solution. It was also least damaging to the teeth.
Composite bonding is a procedure where tooth coloured filling material is added to alter the shape, size and appearance of the teeth. The colour is carefully selected to blend in with the natural tooth. Most of the time it can also be carried out without any needles!
This treatment typically lasts anything between three to seven years (on average five). In addition to this, treatment is completed on the same day, so you leave with your new fresh, beaming smile!
Ellen's treatment was completed in just 90 minutes. The filling material was seamlessly blended with her teeth so they were almost unnoticeable! Ellen now has the smile she always desired.
If you would like to know more about how we can help improve your smile, you can phone the practice at 020 88884401 or email: [email protected].