Nessa had been seeing Ketan Shah at Brightside Dental for around 2 years and had been unhappy with her smile for some time. She had considered having dental treatment to improve her smile, but what finally prompted her into taking action was when she decided to get married in 5 months time.
Her main concerns were the discoloured porcelain veneer on the upper front tooth and the fact that the front teeth were out of line.
Treatment options were discussed and the main limitation was the limited time available before the wedding.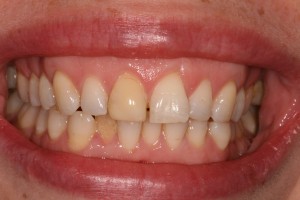 It was decided firstly to straighten the teeth using the Six Month Smiles cosmetic brace system. These were in place for 4 months and were removed slightly earlier than the ideal time, but Nessa was more than happy with the result. A teeth whitening treatment was then performed in order to improve the overall colour of the teeth and finally the old porcelain veneer was removed and a new veneer was custom made and fitted to match Nessa's new smile.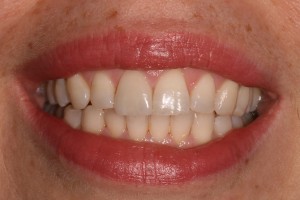 This was all achieved in under 5 months to give Nessa the result she wished for and allow her to smile confidently for the cameras on her big day.
It was great to be able to deliver the desired result within such a limited time with the most advanced treatment solutions we have available.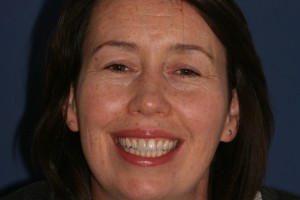 Nessa was great in following our advice and attending, around her ever busier schedule as the big day became closer and closer and it felt like we were living the wedding planning experience in receiving the regular updates on the progress for the wedding.