Ketan, our practice principal has undertaken a 9 month training course in advanced orthodontics, which has involved over 70 hours of training in Wales, along with various course assessments, case logs and reading. He is now able to provide a wider range of teeth straightening options for our clients.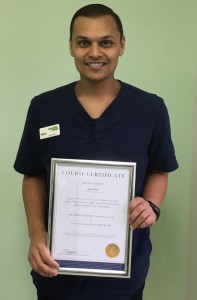 This will be followed by a further course next year. Increasing numbers of adults are choosing to have their teeth straightened to improve their smile. Orthodontics are not just for children.
At Brightside Dental, we have a number of cosmetic straightening solutions. It is rarely required to have metal "traintrack" braces like Ugly Betty. We use discreet tooth coloured brackets and wires, clear aligners and also braces on the inside of the teeth that are not visible.
See more details about our teeth straightening options here:
https://www.brightsidedental.co.uk/dental-treatments-bounds-green.html
If you would like to know more about the options to help improve your smile contact us on 020 88884401 to arrange a FREE smile audit worth £49.