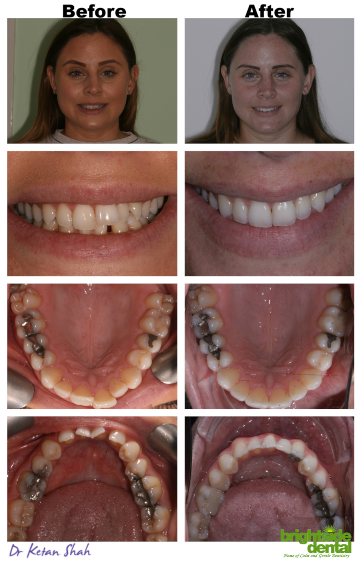 Lauren initially came to Brightside for a consultation with Dr Ketan Shah to find out how she could improve her smile. She found us via Google, largely based on reviews from happy patients and from seeing examples of treatment we had carried out for other patients. She was mostly unhappy about her upper front teeth which were overlapping and had moved over time and also the gaps around her lower front teeth.
We looked at different treatment options that could achieve Lauren's goals and opted on the following plan:
Invisalign clear aligners to straighten the teeth
Teeth whitening to freshen and brighten Lauren's smile
A Maryland bridge to replace the remaining space from the missing teeth
A bridge was chosen over having a dental implant largely due to time and financial constraints (Lauren was getting married in 10 months).
The treatment progressed well and Lauren was very compliant and wearing her aligners as recommended and attending all appointments, which helped hugely.
We met the deadline of Lauren's wedding and the main treatment was completed in time for her to smile confidently for her photos.
After the wedding, we carried out some further minor movements of the upper teeth in order to improve the end result. The treatment took 15 months in total, which would have been much less but was increased due to Lauren's wedding and lockdown from Covid 19.
Lauren was very pleased with the process and outcome of treatment and shares her experience here: https://youtu.be/TIE3KZSCBBQ
If you would like to find out more about options to improve your smile or if a friend or family member is interested, email us or call on 020 88884401 and we can arrange a free, no obligation virtual consultation to advise on options.