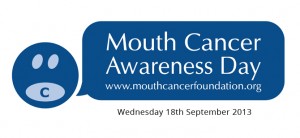 Mouth Cancer Awareness Day is on 18th September 2013, so in line with this we have chosen to support Mouth Cancer Foundation as our Charity of the Month at Brightside Dental.

In the UK mouth cancer has increased by almost 50% in the last decade, and is estimated that over the next decade around 60,000 people in the UK will be diagnosed with the disease. Without early detection an estimated 30,000 people will die. Worldwide, over 460,000 people are expected to die from mouth cancer each year by 2030.
Mouth Cancer Foundation is a professional support organisation solely dedicated to helping people with mouth, throat and other head and neck cancers deal with the crisis of cancer. Through a variety of ways the charity gives resources, information and contact with people in a similar situation at a difficult time.
Mouth Cancer can be deadly and early detection is essential. Cancers can occur in any part of the mouth, tongue, lips, and adjacent areas like the throat, salivary glands, pharynx, larynx, sinus, and other sites in the head and neck area. In its very early stages, these Mouth Cancers can be easy to ignore. The Mouth Cancer Foundation has devised a 'Two minutes to save a life' mouth cancer screening protocol, which is a 10-point checklist that every dentist should be able to include in their routine.
On Wednesday 18th September we have limited appointments available for free mouth cancer screening. If you, any members of your family or friends would like to take this up please contact us on 020 88884401 or email [email protected].
For more information about the Mouth Cancer Awareness Day please visit http://www.mouthcancerfoundation.org/get-involved/mouth-cancer-awarness-day
We hope our contribution with help make a difference to others.
If you have a charity you feel strongly about, please let us know and we will see what we can do about supporting them in the coming months.